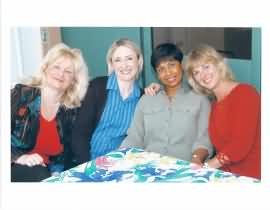 serving
North Broward & South Palm Beach County
Ph: 561-347-0440
Ph: 561-921-0148
Fax: 561-347-1142
7601 N Federal Hwy #225A, Boca Raton, FL 33487
Lic # 20246096, #30211446
Kim Champion is the President and Founder of Champion Home Health Care. She has personally owned and operated the Boca Raton office for Champion since 1993. She assists Rick Stewart with some of the licensee operations for the other Champion offices, on an as needed basis. Kim has 20 years of expertise in the home health care profession. Her favorite aspect of her job is personally visiting with patients and their families. She loves to help families. "We really do make a positive difference in people's lives. We literally have saved some lives! That's why the home health profession is so rewarding!" said Kim.
Renee Risnear is the Director of Operations for the Boca Raton office of Champion Home Health Care. She joined Champion right after the hurricanes in 2004. Renee has five years of Alzheimer's and Dementia management experience. She is a certified trainer for the State of Florida for Dementia Specific curriculums. She is currently earning her Masters degree in Human Relations. Renee is dedicated to enabling patients to stay at home. "Seniors can choose to spend their final years and moments at home, enjoying the familiar surroundings and activities that have made their lives unique. At Champion Home Health Care, we believe our job is to respect that choice," Renee recently stated. Renee also chairs the Worker's Compensation Safety Committee for Champion.
Bobbi Padgett is the Personnel Director, the Alternate Administrator, and the On-Call Manager for the Boca Raton office of Champion Home Health Care. Bobbi has been with Champion since 1999. Over the past six years, Bobbi has managed a variety of day to day operations. "I know everything about how this office runs!" Bobbi recently stated. Bobbi was highly commended by the Agency for Health Care Administration in 2005 for her deficiency-free survey results. Bobbi is frequently selected to participate on the Quality Assurance Committee for Champion because of her diligence in personnel compliance. Bobbi also has FBI top security clearance to work in the home health care profession.
Celeste Affonso is the Coordinator, On Call Manager, and Notary for the Boca Raton Champion office. She joined Champion back in 2003, with several more years of prior home health care management experience. Celeste deserves the award for "Miss Congeniality" because she is always pleasant and courteous to everyone! The caregivers especially love Celeste, and not just because she gives out the jobs! Scheduling caregivers does keep Celeste more than busy each day. Celeste has training as a skilled nurse. She sets high standards for all the caregivers, and definitely lets them know if they fall short of her expectations! Celeste is a world traveller. Before settling in South Florida, Celeste lived in British Guiana, England, Canada, and New Jersey. She has children and grand-children in Canada and Australia