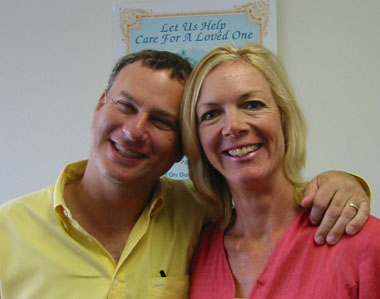 serving
Alachua, Bradford, Columbia, Dixie, Gilchrist, Levy and Union Counties
Ph: 352-371-8600
Ocala Office
serving
Marion County
Ph: 352-622-3092
Fax: 352- 338-1194
3911 Newberry Rd., #B-2
Gainesville, FL 32607
Lic #299992736
The Champion Gainesville/Ocala office is family owned and operated by Sherri and Tony Kalishman. Sherri grew up in upstate New York and is an RN. Tony grew up all over as his dad worked for the Air Force, but settled in Gainesville for the third time in 1999.
Sherri has been involved in health care almost her entire life. She volunteered at the nursing home where her father was the nursing home administrator and she has subsequently worked in nursing homes, hospitals, the state nursing regulatory agency and a testing company that tests Nursing Assistants.
Tony graduated from the University of Florida and is an avid Gator fan. He worked for the Air Force as a civil servant for 5 years and then worked for a testing company for 10 years.
Tony met Sherri when he hired her to work for the testing company. It was a long distance relationship that worked. We've been married for 3 years and have 4 kids!
When the testing company decided to move out of Gainesville, Tony and Sherri decided to open up a school to train students to be Nursing Assistants, Home Health Aides and to learn CPR. This school has been in operation for 2 years and has offices in Gainesville, Ocala, Lake City and Jacksonville.
Opening a Home Health Agency seemed a natural progression. We see, through our students, how lives can be affected by the proper care. We feel we can make a difference in people's lives.
Our goal when we opened our school was to make a difference. We both wanted to own our own business, but never were sure what kind of business it should be. We knew we wanted to make a difference and have always believed there is no such thing as a good deal unless the deal is good for both sides. Our school is that way and the home health agency is that way as well.
Life is too short not to enjoy as much of it as you possibly can. The right caregiver, providing the appropriate level of care, can make all the difference in someone's quality of life. Our goal is to make our clients happy in the comfort of their own home.