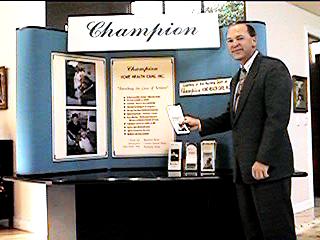 Have you considered starting your own Home Health Care Business in Florida?
In Florida the population greater than 85 years of age is expanding at 20% per year. This is a phenomenal business opportunity for medical and non-medical in home care. Here is the opportunity to License a proven system of business operations and receive assistance from individuals who are intimately aware of the Florida market and the details to pass State Licensure.
Are you considering a career change? Do you prefer to direct your own future? Do you want to be fully compensated for your efforts? If these are your goals and you enjoy helping the elderly, then you must consider becoming the owner of a licensed agency!
The need for both medical and non-medical care for the elderly, new mothers, those needing assistance with activities of daily living and companionship is expanding as the government reduces benefit programs and the population ages. Our State Nurse Registry License allows us to provide caregivers to individuals needing home care as well as to those institutions requiring medical staffing.
How often has someone said "Let's get into business"
There are numerous reasons to do so, so why don't they? The reasons given are usually capitalization and the apparent need to come up with a unique product or service. However, the problem is RISK, and the solution is to minimize the risk!
How to minimize inherent start up risk!
First, find an industry that has an expanding market ; Second, enter an established industry within which the market has been identified and segmented; and Third, seek out a licensed business opportunity or franchise. By becoming a licensee you obtain access to the business structure and all the knowledge of the Licensor. The Licensor has already developed methods and found viable solutions to almost all the problems that the start up can expect to encounter. During the first six months to a year when most start ups fail, the licensed business enjoys lots of hand holding and most often succeeds. As the business grows the back office support allows the owner to concentrate on marketing, sales and customer satisfaction. For the person who can work on their own, excels in interpersonal skills, can manage personnel, enjoys marketing and can administer in accordance with the prescribed regulations, there is the opportunity for substantial financial reward.
Minimize Start-up Costs by using our Proprietary Business Structure and Software!
Start-up costs range from $50,000-$70,000 which includes an initial license fee of $25,000. Royalty fees are based on revenue. Licensees are given an exclusive territory.
Skilled Medical Care is 90% of the Home Health Care Market!
Don't waste your time developing a business which has legal limitations on the services that you can provide. Do you really want to give up your customers just as their needs increase? Ensure that you get a Nurse Registry License.
As a private pay agency you are not able to bill to Medicare directly. However, we can sub-contract with certified Medicare Agencies to provide those services. This allows you to enter this market without the inherent risks associated with changing government regulations.
This is a quick start program!
You are led through the complex government licensure requirements and provided with all the necessary forms and documentation.
BENEFITS AS A LICENSEE OF CHAMPION HOME HEALTH CARE
*EXCLUSIVE SOFTWARE THAT STREAMLINES AND ORGANIZES CAREGIVER
AND CLIENT INFORMATION
*COMPUTERIZED SCHEDULING
*NO BILLING OR PAYMENT HEADACHES
*BOOKKEEPING SERVICE AND FINANCIAL REPORTING
*OPENING ASSISTANCE AND ONGOING MANAGEMENT AND
ADMINISTRATIVE ADVICE
*CONTINUALLY UPDATED FORMS, SUPPLIES AND PROMOTIONAL MATERIAL
*USE OF CHAMPION HOME HEALTH CARE REGISTERED SERVICE MARKS
*SALES AND OPERATIONAL TRAINING
*EXCLUSIVE TERRITORY, PROTECTED FROM OTHER LICENSEES
Licensed vs Non-Licensed Business
| | |
| --- | --- |
| Learn from our experiences and create a successful and profitable business. Benefit from our effective advertising programs. | Make numerous mistakes as a start-up which will cost you thousands of dollars and your business. |
| Use our comprehensive operations manual approved by the State. Receive intensive on-the-job training. | On your own, you will have to use trial and error to determine the best and most cost effective solutions. You'll probably have to hire a consultant to pass State Licensure. |
| As a Licensee using our name, your image will be enhanced. | As an unknown start-up, clients will be insecure with your ability to perform. |
| On going marketing and sales support, using ads that already produce results. | You'll spend thousands of dollars trying out every type of marketing promotion. |
| Complete set of operational materials including caregiver and client documentation and contracts. | Incur hundreds of hours of effort and thousands of dollars in legal fees to produce the written materials necessary to operate your business. |
| We offer start up assistance and ongoing support. Also, we implement programs designed to reduce operational costs and increase your revenues. | You'll have to make every decision without the benefit of knowledgeable advice. |
Exclusive Territory
All territories are exclusive. As part of the license agreement you will receive an exclusive geographically defined territory within which no other office can provide client services. Generally, this will be an entire Florida County.
Training
As a Licensee you will receive training in the procedures and operating details necessary to run a Nurse Registry. This includes recruiting, interviewing, placement and documentation of personnel; sales techniques, referral sources and documentation of clients; and the use of data base computer software. The training period will vary depending upon experience within this industry and general business knowledge. You will be provided a comprehensive Licensure Manual as well as all necessary forms and documents. We have ad material for your immediate use as well as an intranet for internal communications.
Bookkeeping/Data Processing
We will provide proprietary computer software to simplify administration of the agency. We use the data files to process payments and client billing. You will receive a weekly aged accounts receivable report, copies of all invoices, payment checks and a deposit statement. A monthly receivables journal and statement of fees paid will be provided. Our computerized bookkeeping system relieves you of many headaches and provides an accurate record of your business activities.
Operating Assistance
Throughout the license arrangement you will be provided with ongoing support. We are always available for advice and assistance on bidding strategies or operational problems. We want you to benefit from our years of experience in the health care industry. We will assist in the development of a sales plan specific to your area and accompany you in making your initial sales calls. A set of start-up office supplies, sales material, manuals and forms will be provided and will be updated on a continuing basis.
Applications
An applicant must possess initiative, ability, business experience, sufficient financial resources and enjoy working with the elderly in order to be a successful licensee. We make every effort to evaluate the qualifications of each individual.
1. Request and complete the Qualifying Licensee Questionnaire and return to us.
2. We will evaluate your potential to be successful in this business venture.
3. A personal interview will be conducted. This will allow you to assess our operating procedures.
4. The Agreement will be provided for review by yourself and legal counsel.
5. Once the applicant is accepted, agreement signed and fees paid, we will initiate a training program suitable to your background.
Contact:
Richard Stewart
561-948-0173